It's been another drizzly, chilly week on the Oregon Coast, with days that can be discouraging to spending much time outside. We've seen hail multiple times and even some snow. As much as I am in a constant state of wanting to be outdoors, the weather of late has made me a little more content to be in warm, dry building. It is a necessary thing for me to have time in nature regardless of the season, but there always seem to be obstacles even to our necessities.
Ash Wednesday came this week, ushering in Lent for Christians and the habit dropping crowd not satisfied by a New Year's Resolution. Rituals and religious seasons have been an important part of my faith, especially in the last five or so years. I've had many blog followers along the ride with me during Lent and Advent as I sought to write a haiku each day and fast each Friday. I think seasons of reflection are important. I think we should have moments periodically that are bigger than ourselves that demand we slow down, put our tasks aside and examine something. Lent represents this time where I'm brought in touch with weakness and short-coming, but it somehow instills me with gratefulness and hope.
Since my challenges that piled up in 2016, I've felt like I didn't have the energy to engage in these practices like I have in the past. I love them and still believe in them, but these days it feels like I am pushing myself just to arrive back at a baseline, some sort of normal, and most weeks I have trouble accomplishing that. In the past, these practices have given me peace, but imagining them now makes me a little anxious, like I couldn't possibly hold it together. Even now, it seems daunting to keep these weekly posts up. I am seeking to get myself away from this type of thinking. If I devote more regular time to reflection, prayer, creative pursuits with joy and purpose, I will likely find the other stressful things come a bit easier. Still, for now, some of these things seem like more than I can commit to.
Allyson and I attended our first Childbirth preparation class at our local hospital, which we'll be doing for the next four weeks. It was interesting being in a class with other couples from the community who are going to have a baby about the same time as us. This struck me for the first time when our instructor said to get to know these faces. In five years we would see them again on the first day of school and on and on. I've been aware of how parents get tied to other parents because of the arbitrary dates they share of when their babies are born, but I was experiencing this. This is my kindergarten class all over again.
We looked at a lot of slides with a lot of diagrams showing what Allyson's insides probably look like. We were schooled on the signs of labor, the stages we'd go through and how to evaluate them. We watched a birth actually happen, and it became just a few ticks more real that we would be doing this, probably sometime in May. If there is anything in life to stop you out of your tasks and routines, I imagine this little thing growing inside Allyson right now will be a frequent offender on that list. As much as people always, with very good intentions, tell us that our life will never be the same, I find myself resisting the urge to look at it that way. Last year, in the midst of a lot of professional challenges that led to a lot of personal challenges, the news that we would have a baby was a relief, a sort of grounding thing. It felt like something that would bring balance back to my life. I have no doubts it will be daunting and scary and cause me to question myself. I trust that from watching friends and family. But, I am trying to look at this as rather than changing my life into something totally different, it is more making my life more true to what I really am. I'm sure once she's here, I'll have less energy for being so philosophical about her meaning in my life.
On Thursday I carved away enough time to take a day off, which I hadn't had in a few weeks. It was both a great relief and so strange it felt like a portal to a different dimension. I left early in the morning, charting my course for Astoria. I was one of the first people that day at Fort Clatsop National Historic Park, which has a replica of the fort Lewis and Clark built during their winter on the Pacific Coast. I had the whole fort to myself, touring each room, examining the furniture, the handiwork of the doors, the design of the roofs and walls. I thought about what it would have been like to live a rainy, chilly winter in these accommodations, surrounded by mud over 2,000 miles from home. They had a rainier winter than we have, and their heat was not gas.
I walked down to the river where they landed their canoes, listening to the ducks and geese and a small breeze in the treetops. I was hit with an urge to do some walking, so I kept following the trail, then took a branch of the Slough trail, until it connected with the Fort to Sea trail, which is pretty self explanatory. On this trail that cuts through the hills of this countryside, I found a few places designed for sitting and reflecting. In a wetland, I found a bench and just listened to water flow, looking at the skunk cabbage and the evergreens shrouded in moss. It was great to have no agenda, no schedule, just to choose to be in a place as I approached it for the time I deemed necessary.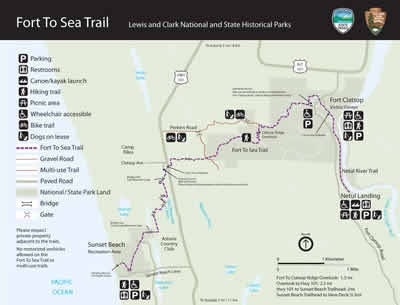 I wanted to take the Fort to Sea Trail all the way to the Sea, but it would have eaten up the rest of my day and left me incredibly sore, considering how little I've hiked as of late. I settled to make it to the Clatsop Overlook. I stopped and looked out over a valley. It was overcast and drizzly, but I knew the Columbia was just on the other side of the gray. I threatened to rain nearly the whole way back, but between the rain's failure to commit and some great tree cover I did not get soaked. It was great medicine to be out in the quiet, to quiet me thoughts a bit. To purposefully stop my regular routines for something that seemed more aimless. It was less a task and more an exploration.
From Fort Clatsop, I moved on for lunch at Cabaña de Raya for $2.50 tacos. I did two with chorizo and two with carnitas, as I watched soccer highlights in Spanish and looked out over the confluence of several Oregon Rivers just before emptying into the ocean. From there I went to the Astoria Pier. I had a beer at Buoy Beer Company, watching sea lions swim in the Columbia. From there I passed by a little ice cream shop called Frite and
Scoop  that has these ridiculously inventive and delicious ice cream flavors. I got a scoop made half of a flavor called "Hokey Pokey," which has homemade honey comb candy and one called "Saturday Morning Cartoons," a strawberry ice cream full of kids cereal bits. From there, I shuffled through a steadier rain to the Fort George Brewery for one last beer.
At the bar next to me was a couple from Tennessee who live in Nashville and were basically traveling through Pacific Northwest as a honeymoon. We talked about the towns we knew, how Nashville is blowing up, how awesome Oregon is. These are moments where I really have grown to enjoy solo travel. On a solo travel day, you roam like a Nomad, sniffing out adventures, reveling in the coincidences that come these random decisions. This is the beauty of breaking up the routine, of taking mandatory breaks from sectors of our lives that we often too easily make ourselves believe must be as they are and must continue on and on without stop. I am seeking a balance to return these days. I'm seeking to stops that are bigger than me. I'm seeking how they will equip me, make ready to return to the routine, joyful for both in my life.